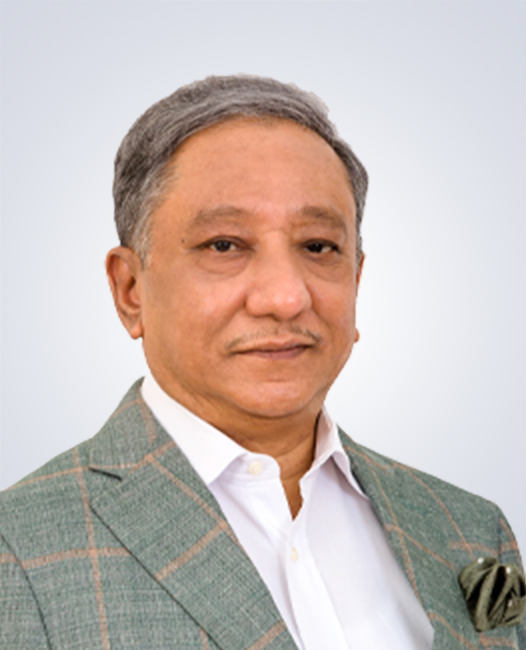 NAZMUL HASSAN, MP
PRESIDENT
An avid cricket follower and sports organiser, Nazmul Hassan has been actively involved with cricket for the last decade and a half. In 2012, Hassan was nominated for the position of the President of Bangladesh Cricket Board (BCB). Subsequently, he has been elected as BCB President for consecutive terms in 2013, 2017 and 2021 He is also a Director of the International Cricket Council (ICC) and a Member of the Executive Board of Asian Cricket Council (ACC). He had held the position of the President of ACC from 2018-2020. Since 2008 he has been the Chairman of the Cricket Committee of renowned sports club Abahani Limited. He is also a Member of Parliament and a successful professional in the pharmaceutical sector of Bangladesh.
An acclaimed administrator, Nazmul Hassan is the Managing Director of Beximco Pharmaceutical Ltd., a leading pharmaceutical manufacturer and exporter in Bangladesh. He is also the Managing Director of Shinepukur Ceramics Ltd. and a Director of Beximco Group. Hassan completed his MBA from the Institute of Business Administration (IBA), University of Dhaka with major in Marketing in 1985. He supports various social welfare organisations including the Trust of Sheikh Fazilatunnessa Mujib Memorial KPJ Specialized Hospital & Nursing College in Savar. He is the current President of Bangladesh Association of Pharmaceutical Industry (BAPI).
Nazmul Hassan was born on May 31, 1961 at Bhairab, Kishoreganj, Bangladesh to a family with a rich political background and heritage. His father Zillur Rahman was the President of the People's Republic of Bangladesh from 2008 until his death in 2013. Both his father and his mother Ivy Rahman were dedicated lifelong activists and leaders the Bangladesh Awami League party.
He is blessed with a son and two daughters.