Bangladesh's FTP Announced
August 17, 2022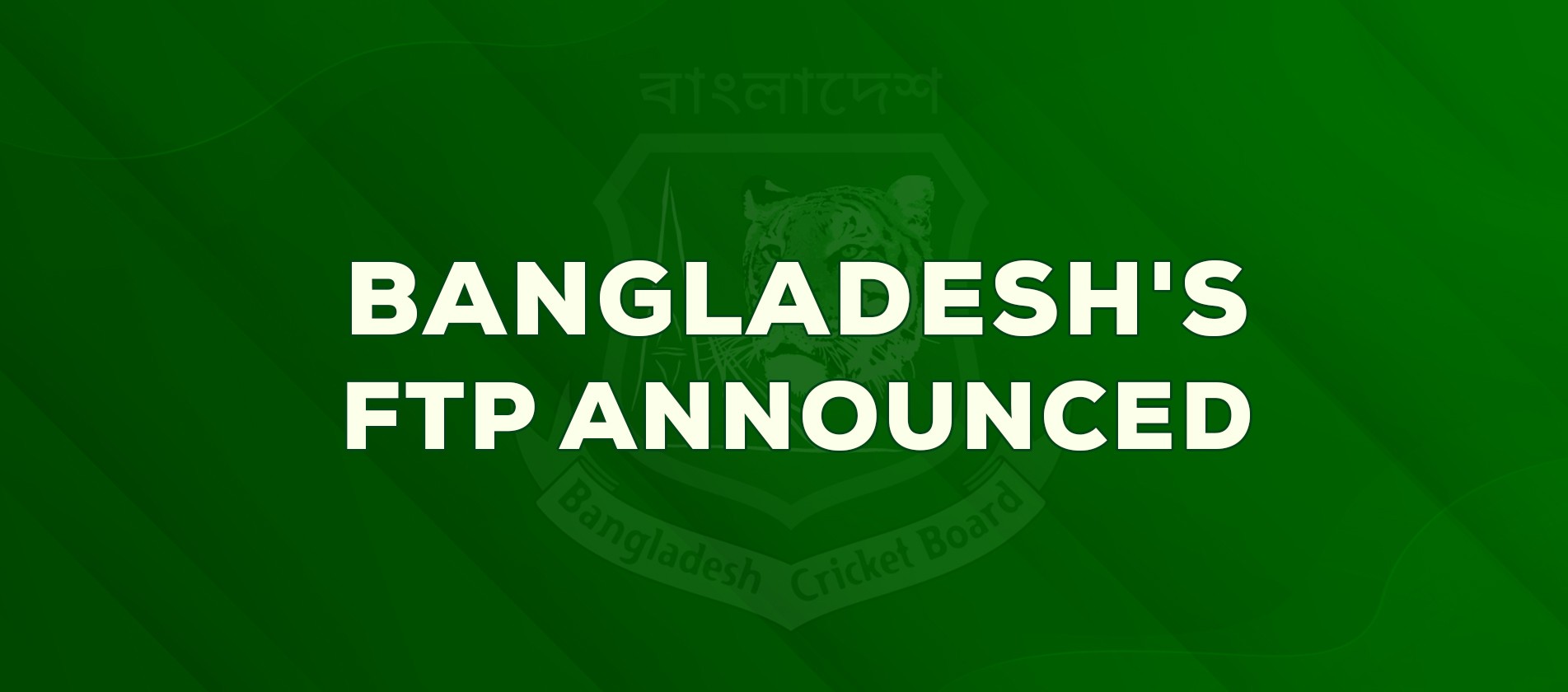 Bangladesh play all other Full Members during the next cycle of the ICC Men's Future Tours Programme (FTP) for the period 2023-27, the details of which were confirmed by the International Cricket Council (ICC) today.
The announcement of the FTP, a result of a collective effort of Full Members with ICC's support, ensures certainty of cricket fixtures with the confirmation of all bilateral series across the three formats. The exact dates of the series are for the Members to announce in due course.
Bangladesh make a tour of Ireland in June 2023, which will be followed with a home series of two Tests, three ODIs and three T20Is against Afghanistan in June. They also have a busy calendar in 2024 during which they host Sri Lanka and Zimbabwe from February to April and then play Afghanistan, Pakistan and India in away Tests mid-year.
A home Test series against South Africa and an away full tour of the West Indies (two Tests, three ODIS and three T20Is) are part of the ICC World Test Championship (WTC) 2023-25 while the 2025-27 WTC finishes off for them with a challenging home series against England and an away series in Australia.
WTC series: Bangladesh play New Zealand, South Africa and Sri Lanka at home in the 2023-25 WTC while touring India, Pakistan and the West Indies. In the 2025-27 cycle, they play England, Pakistan and the West Indies at home and have away series scheduled in Australia, South Africa and Sri Lanka.
The announcement of the Men's FTP comes a day after the first ever Women's FTP was announced.
ICC GM of Cricket Wasim Khan said: "I'd like to thank our Members for the effort that has gone into creating this FTP for the next four years. We are incredibly lucky to have three vibrant formats of the game, with an outstanding programme of ICC global events and strong bilateral and domestic cricket and this FTP is designed to allow all cricket to flourish.
"The landscape around the game is continuing to evolve and we will work closely with Members as we collectively adapt to that. We are committed to growing the game and giving more fans more opportunities to enjoy cricket, but are very mindful of the need to balance that ambition with the welfare of players."
BCB Chief Executive Nizam Uddin Chowdhury said: "The 2023-2027 FTP is very pleasing for Bangladesh. We have received a healthy share of matches against members across formats. This FTP is also a credit to the efforts of the ICC scheduling team and the member Boards and the cooperation between the stakeholders.
"The BCB believes that the FTP should be based on the principle of fair distribution of matches for all teams and from that aspect, we are happy that the new FTP promises us a greater number of days of international cricket compared to the previous cycle.
"We have been emphasising on the importance of playing more international cricket in order to attain the desired standards and the ICC FTP 2023-2027 gives ample opportunity to our players to compete regularly at a high level which will be most beneficial for individual and collective improvement."
A media release on the complete men's FTP, an earlier media release on the women's FTP, graphics and schedules are available in the Online Media Zone

Ⓒ ICC