Agreement Signing Ceremony between BCB and Populous Pte. Ltd., International Consultant for Sheikh Hasina Cricket Stadium
October 12, 2022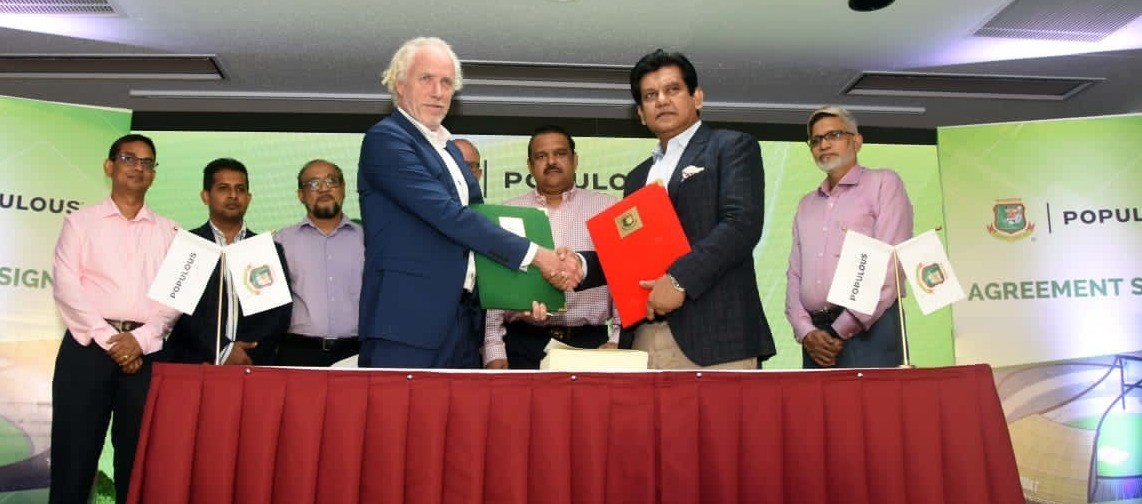 BCB CEO Nizam Uddin Chowdhury and Andrew Frederick James, Director Populous Pte. Ltd shake hands after signing of the agreement to assign Populous Pte as the International Consultant for the Sheikh Hasina Cricket Stadium in Purbachal, Dhaka.
Proposal Evaluation Committee (PEC) members Md Nazrul Islam, Additional Secretary Ministry of Youth & Sports, Barrister Mohammad Mehedi Hasan Chowdhury, Additional Attorney General, Bangladesh, Professor Dr A.B.M badruzzaman, Dept. of Civil Engineering BUET, Professor Dr Tanvir Manzur, Dept. of Civil Engineering BUET, Architect Mahmudul Anwar Riyaad, Dept. Of Architecture, BUET, Md Akram Khan, Director BCB were present during the signing ceremony.
The 'Boat' themed state of the art stadium when completed, would have a capacity of 50,000 and the complex will have all modern cricketing facilities including indoor and outdoor practice areas, swimming pool, gym and an academy with accommodation for 100 persons.